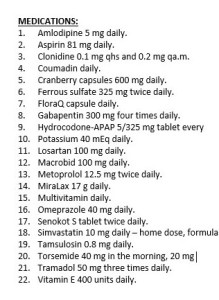 Medication Review tonight – This medication list is obviously a case of high blood pressure.  Amlodipine, clonidine, losartan, metoprolol, as well as torsemide and the tamsulosin have the potential to bring the blood pressure down.  It certainly looks like this is a case where would need to monitor blood pressure closely. – As always, please feel free to add anything to the comments following this post.
On the positive side, there isn't any duplication in the classes of antihypertensives being used, and I don't see any notorious medications that cause or worsen hypertension.
From the medications, I'm also guessing that this patient has a history of anemia (on Iron supplementation).  We need to always assess ongoing use of iron as it can be problematic especially in the elderly (GI side effects, constipating etc.)  Here's a case that I've seen too many times on iron supplementation.  If the anemia is very significant (or exists), we will need to certainly continually assess the Coumadin use closely as well.
I would suspect this is an elderly patient (but not necessarily) so I would also be looking closely at kidney function.  The Macrobid is especially something important I'd be checking out.  Plenty of other lab/vitals monitoring to be done as well – just a few to note; electrolytes, kidney function, pulses, CBC, INR, etc.
Assessment of pain would be an important factor as well – this can play a role in contributing to elevated blood pressure.  The regimen seems a little bizarre with scheduled Ultram and prn Vicodin (the prn got cut off in the picture).
Why the vitamin E, and cranberry of benefit with Macrobid!?!?
New to the blog? – get something free: 30 medication mistakes that I see in my everyday practice as a clinical pharmacist (6 page PDF I will personally email to you).
Eric Christianson, PharmD, CGP, BCPS