I don't take a break from clinical content very often, but when I do, it's usually something that is very important to me personally. Every day, I try to think about what might help a fellow healthcare professional use medications more wisely. I've been blogging since 2013 and podcasting (Real Life Pharmacology) since 2018.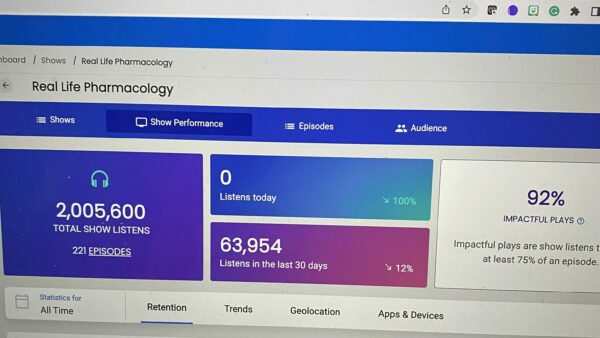 Hitting the milestone of 2 million podcast downloads is staggering to me and very humbling! An overwhelming number of podcast episodes have been downloaded over 10,000 times! To imagine that 2,000+ people listen to my podcast on a daily basis is UNBELIEVABLE. I always try to envision a massive conference room packed with people when I'm putting together my podcasts to help me focus my energy on doing the best possible job I can. I just want to thank you all for following this blog and the podcast. The growth of the podcast has truly been a grassroots effort by all of YOU! THANK YOU!
In addition to listening, reading, and sharing the blog and podcast, I owe a special thank you to all of you who have financially supported this podcast and blog. All purchases through meded101.com/store allow me to continue putting time and effort into the content while continuing to work part-time as a clinical pharmacist. Thank you so much to all of you who have bought a book or study materials, it means the world to me! I'm also appreciative of great sponsors like pyrls.com who have great content and help pay the bills!
Last but not least, thank you all so much for the kind ratings, reviews, and emails I have received on our products and content. These kind words help me fill up my emotional gas tank and keep going! 9 years of twice-weekly blogging and 4 years of weekly podcasting take a lot of personal energy and focus. I love what I do and the only thing that makes it better is knowing that someone has found the content helpful in their practice. Thank you so much for all the kind book reviews, podcast reviews, and for sending other healthcare professionals to Meded101 and Real Life Pharmacology.
You all have been so kind to me and I cannot thank you enough! I will do my best to keep giving you helpful medication education!
Sincerely,
Eric Christianson