Over the years I've seen some goofy things happen with medications and patients. I likely don't need to tell you how important patient education is, but here are three tiotropium misadventures that you might find interesting.
Tiotropium comes as two different dosage forms. Tiotropium comes in a Respimat formulation and there is a Handihaler device that requires that patients (or caregivers) load a capsule into the device to be punctured and its contents breathed in. Here are a few situations that the Handihaler device has led to some confusion with patients.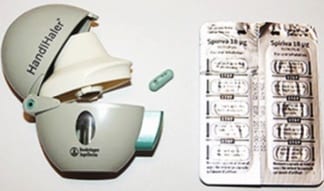 Example 1: I've heard of patients actually swallowing the capsule that you are supposed to place in the device.
Example 2: I recall a patient who was attempting to open the capsules and pour the powder into the HandiHaler device.
Example 3: One other really quirky thing I have seen is where a patient placed gabapentin in the device and inhaled the drug.
I will say that I have not seen a negative outcome from these tiotropium misadventures, however, the potential for adverse effects or a lack of clinical response in COPD exists without proper education and use of the device.
What's your most memorable medication misadventure? Here are some osteoporosis medication mistakes from the past.
Did you enjoy this blog post? Subscribers are emailed when new blog posts. In addition, you'll get access to the free giveaways below. Over 6,000 healthcare professionals have subscribed for our FREE Giveaways. Why haven't you?!
Study Materials and Resources For Healthcare Professionals and Students – Amazon Books