I was unable to attend ASHP Midyear 2018 and was honestly a little sad about it.  Last year I shared some of my experiences. I love learning things and connecting with old friends. While I was unable to make it, I'm always interested to hear what's going on.  Ashlee Klevens Hayes was willing to share her perspective from conference and I'm appreciative of her guest post!
A little about Ashlee. Dr. Ashlee Klevens Hayes, PharmD/MHA, is the Founder of RX Ashlee. The mission of RX Ashlee is to empower pharmacists to explore nontraditional roles in pharmacy while simultaneously providing motivation, accountability, and confidence amongst every single pharmacist. She is committed to supporting pharmacists in navigating their careers, preparing pharmacists for interviews, and business marketing. Ashlee is also the host of the RX Buzz Podcast that is affiliated with the Pharmacy Podcast Network, which has consistently ranked in the top 20 business podcasts in the country.
ASHP Midyear 2018 Recap
I've been attending ASHP Midyear Conference for over 10 years now. Every year I look forward to catching up with old colleagues and reuniting with prior classmates, jumping into networking sessions, and feeling reenergized by the massive influx of students, residents, and practitioners gathered together for this event. One of the main portions of the conference I love the most is walking around the exhibit hall and browsing the new software technology companies or checking out the latest new sexy medication that was recently brought onto market.

However, there is absolutely no doubt, that since I completed residency and transitioned out of the health system realm, over the last few years my focus has begun to shift and evolve. As with many of you who are reading this post now, I am sure you can relate to this sentiment: as you get deeper and deeper into your subspecialty and niche area, you begin to question which conferences to attend? Is the money and time it takes to participate in a conference really worth energy?

To be clear: as a health system pharmacist, I do not think that attending these meetings is a 100% necessity in defining success in your career. HOWEVER, I do think there is something to say that engaging in the profession, mentoring students and new practitioners, taking a moment to get back to your roots, and remembering WHY you went into this profession in the first place is an excellent reason to attend Midyear.
With this said, my top 3 favorite parts of ASHP Midyear 2018 are:

The Meeting was Very Intentional
High focus on critical topics such as pharmacist role in combating the national opioid crisis, as well as wellness and resilience training for all levels of pharmacists. There is no shortage of data to show that clinicians, including pharmacists, are increasingly become more burned out. ASHP did an excellent job highlighting the pharmacist's role in curbing the opioid crisis, as well as put on numerous educational sessions regarding wellness training.
Bring Your Kids Along
As any parent can relate, managing childcare details and plans while traveling to meetings is a very large burden to working parents. This year there was a simple fix to this hurdle! I believe this year was the first year ASHP or any other national organization offered childcare services at the conference. Especially because the location this year was next door to Disneyland, I had three very close friends utilize this service, and all three of them were VERY happy with the support.
Having a Minute to Yourself
ASHP did an outstanding job recognizing that the hustle of Midyear activities can be extremely overwhelming. For the first time ever, there was a mediation room, dedicated quiet space, and pumping rooms available for nursing moms.
Last, but not least, ASHP did a beautiful job remembering the late Dr. Dayna Less. Dayna was a PGY-1 Resident at Mercy Hospital in Chicago, Illinois. During a random shooting act in November, she was shot and killed while walking out of the elevators in the hospital she was working at.

Since I no longer have a company that pays for me to attend these conferences, each penny I spend comes straight from my own business budget, I do believe there is REAL value in attending, and participating in these conferences. The value shows when you meet with like-minded colleagues who JUST GET YOU, and UNDERSTAND your career vision.

Overall, the conference was stellar, well- organized, and continues to produce high quality educational sessions. Worth the cash for me, and I am happy I attended!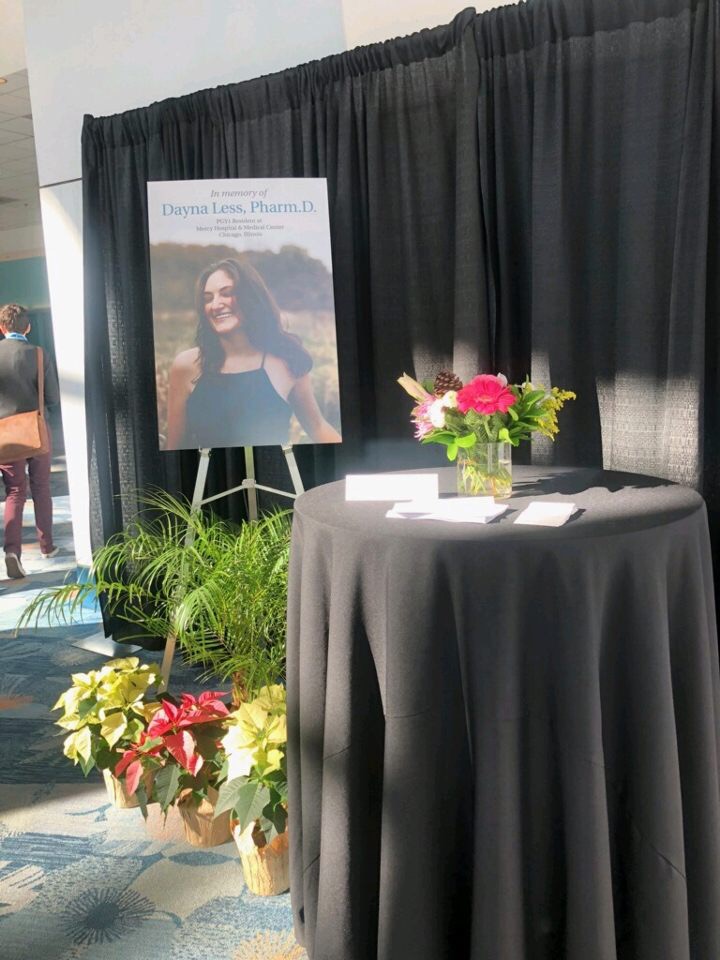 Photo Credit: Austin Kurkoski, PharmD

After Seena and Jenn'y CE on Solution- Driven Strategies: Promoting Clinician Well-Being Joanna Lewis, PharmD, MBA, Seena Haines, FASHP, FCCP, FAPhA, BCACP, BC-ADM, CDE, and Jenny Van Amburgh