I've had numerous pharmacy technicians and future pharmacy technicians reach out to me over the years for more content to help them prepare for board exams. I'm happy to support more pharmacy peeps than just pharmacists. The biggest challenge for pharmacy technicians has been the PTCB® (Pharmacy Technician Certification Board) exam. We've gone through the content outline and have created a 100% free practice exam! We are confident that the Meded101 PTCB free practice test will help prepare you for the PTCB exam.
We've divided our PTCB free practice test into 3 different sections. Each section is 30 questions for a total of 90 questions. The format of the practice exam is multiple choice which is consistent with the actual PTCB exam. This will provide you with an excellent trial run and allow you to time yourself to ensure that you are setting a good pace to finish the exam efficiently.
If you are looking for help studying pharmacology, I'd recommend checking out the Flippin' Pharmacology Flashcards on Amazon. They provide an excellent review of drug classification, adverse effects, mechanism of action, and much more!
If you have questions/comments, feel free to reach out to me at [email protected]
I hope this is a help to all our pharmacy technician friends!
If you enjoy this free practice exam, you must have our PTCB pharmacology crossword puzzle book! It is the MOST enjoyable way you'll ever study!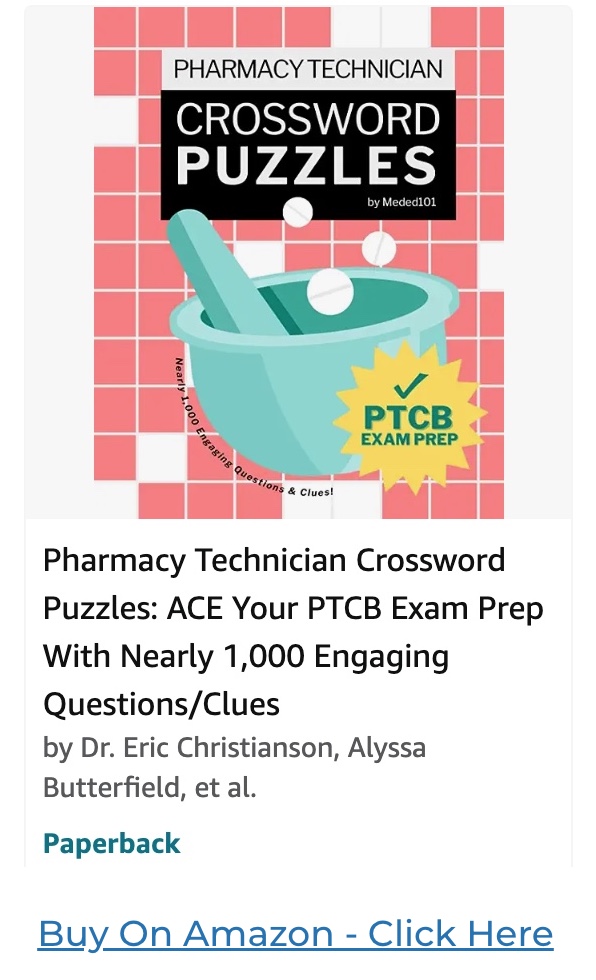 Eric Christianson, PharmD, BCPS, BCGP