I've had a lot of great clinical pharmacist educators donate case studies and I'm so appreciative of them helping me in my mission to educate healthcare professionals about medication safety.  Amanuel Tseggai, Pharm.D., BCPS has donated this interesting and educating case on pharmacotherapy in endopthalmitis.  He does a great job of highlighting duplicate therapy and how that therapy may actually do more harm then good.  If you'd like to donate a case from your practice, feel free to reach out right here! Thanks again Amanuel, and here's the case:
This case involves a 56 year old male with history of cirrhosis (awaiting liver transplant), Coronary Artery Disease (CAD) s/p stents, hypertension and diabetes who presents to his ophthalmologist complaining of increased pressure and pain of his left eye and transferred to our hospital for concern for endophthamitis. Patient's other medical history include pulmonary embolism, SMV thrombus on anticoagulation and chronic anemia requiring blood transfusion.
Blood cultures as well as that of ocular fluid were obtained on 3/9/2018 and repeated on 3/10/2018 in identifying the pathogen(s). Infectious Disease was consulted and multiple intravenous and ophthalmic antibiotics initiated empirically pending culture results. In addition, patient was placed on anti-inflammatory agents and several eye drops for his glaucoma (see table 1).
Table 1. Below is a summary list of medications initiated upon admission, as recommended by ophthalmology.
| | | | |
| --- | --- | --- | --- |
| Medication | Dose/route | frequency | Start Date |
| Ceftazidime 2.25mg/0.1ml | 6.75 intraocular | once | 3/9/18 |
| Vancomycin 1mg/0.1ml | 3mg intraocular | once | 3/9/18 |
| Fluconazole | 400mg po | qday | 3/15/18 |
| Moxifloxacin | 400mg iv | Q24h | 3/15/18 |
| Moxifloxacin o.5% opth | 1 drop left eye | Q4 hr | 3/10/18 |
| Prednisolone 1% opth | 1 drop left eye | Q4 hr | 3/10/18 |
| Prednisone 20mg tab | 20mg po | qday | 3/15/18 |
| Cosopt eye drop | 1 drop left eye | QHS | 3/11/18 |
| Atropine 1% opth | 1 drop left eye | Q8h | 3/11/18 |
| Brimonidine eye drop | 1 drop left eye | tid | 3/12/18 |
| Tramadol 50mg tab | 50mg po | Q6h prn pain | 3/10/18 |
| Tobradex eye drop | 1 drop left eye | qid | 3/13/18 |
Six days post admission, no source was identified on cultures or imaging with exception of scleritis, exophalmos and orbital cellulitis  as seen on CT imaging of the orbit of the left eye reveal.
Antimicrobial Agents : Spectrum of Activity
Moxifloxacin :
Moxifloxacin is active against all common community-acquired respiratory pathogens. The drug has excellent activity against atypical respiratory pathogens, while its potency against members of the family Enterobacteriaceae is about half that reported for ciprofloxacin.]The activity of moxifloxacin in vitro against Escherichia coli (including highly resistant mutants) and S. aureus (including strains showing high-level resistance to ciprofloxacin) is equivalent to or better than that of other commercially available quinolones, such as ofloxacin, levofloxacin, sparfloxacin, and trovafloxacin (1)
Tobramycin:
Tobramycin belongs to a class of aminoglycoside and is widely used in the treatment of infections caused by gram negative pathogens,
Tobramycin has been shown to be active against most strains of the following organisms both in vitro and in vivo: Citrobacter species, Enterobacter species, E. coli, Klebsiella species, Morganella morgana, Pseudomonas aeruginosa, Proteus mirabilis, Proteus vulgaris, Providencia species and Serratia species(2). Factors which make tobramycin less favorable than the newer beta lactams include nephrotoxicity and poor oral absorption.
Discussion
There presents several pharmacotherapy related issues that need to be tackled related to the endopthalmitis. The first one deals with the selection of antimicrobial agents in treating the potential eye infection. More specifically, given the broad antimicrobial coverage of Moxifloxacin , is it necessary to add tobramycin eye drop to the regimen? With cultures and other radiologic imaging shown no evidence of bacterial infection six days post intervention, having multiple antibiotics on a chronic basis predisposes patients for risk of multi-drug resistance (MDR). While tobramycin has a better anti-pseudomonas coverage compared to moxifloxacin, the lack of any growth from cultures of the blood and ocular fluid after six days should call for consideration to narrow therapy and look for other potential etiologies.
The other important issue that needs to be addressed pertains to the overutilization of corticosteroids in managing endopthalmitis. In addition to the daily prednisone 20mg oral regimen, patient is receiving two highly potent ophthalmic corticosteroids: prednisolone and dexamethasone. In the setting of immunocompromised state ( history of cirrhosis and diabetes), administration of two potent immunosuppressive agents concurrently would further predispose patient to bacterial/fungal and viral infection, thus defeating the whole purpose. Use of corticosteroids have also been linked to delayed wound healing and impaired glucose utilization in diabetic patients. Furthermore, concomitant use of dexamethasone and prednisolone is considered duplicate therapy and is not recommended.
Pharmacists' Intervention : Optimization of therapy while minimizing cost:
As healthcare professionals, pharmacists are required to do a thorough review of physician orders for their accuracy and address any issues that they, in their professional judgement, feel need to be further reassessed before verified. The ultimate objective of such intervention is the provision of optimal patient care while minimizing unnecessary cost.
This is a clear case that tests pharmacists' clinical skills in pharmacotherapy. Having a broad knowledge of the spectrum of activity of the prescribed antimicrobial agents and the pharmacodynamics of corticosteroids both as anti-inflammatory and immune modulating agents is crucial for pharmacist in assisting primary care providers make sound clinical decisions in such respect.
Having a patient on multiple antibiotics in treating a suspected infection does not necessarily equate to 'optimizing' therapy, unless such selection is made with the agents' spectrum of activity in mind. Moxifloxacin is a broad spectrum class of quinolone that is widely used as a monotherapy in treating various types of ocular infections.  Its effect against pseudomonas is somewhat intermediate (37.5%). While administration of tobramycin to cover pseudomonas may be reasonable at the initial phase, adding it at the later stage in which there is no concrete evidence of infection (negative blood/ocular cultures) would be counterproductive and more costly both for the patient and the hospital.
With regard to the use of corticosteroids (see table 2), adding dexamethasone and prednisolone eye drops-two potent immunosuppressive agents- to a patient who is already immunocompromised (history of cirrhosis and diabetes) could expose him to fungal/viral infection further and should be questioned. Numerous studies elucidate the various ocular complications attributed to topical corticosteroid use, including posterior sub capsular cataracts, glaucoma, delayed wound healing, potentiation of infection, viral reactivation and corneal stromal calcification (3).There certainly is a need for at least one agent of this class added to manage the patient's severe inflammation short term. However, this would come with the aforementioned risks. Under such circumstances, primary care provider has to reassess the risk vs benefit involving use of potent corticosteroids to treat inflammation in the face of weakened immune system.
Table 2: Anti-Inflammatory Potency of Topical Opthlamic corticosteroids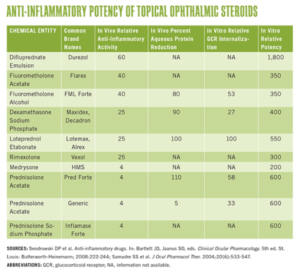 Source: American Academy of Opthalmology, February 2013
Resolution and Clinical Outcome
Adhering to the pharmacist's recommendation and after further consultation with the infectious disease, some changes have been made to the patient's regimen as such:
Tobramycin was discontinued. Patient continued on Moxifloxacin 400mg iv Q24 hr and Moxifloxacin 0.5% eye drop 1 drop left eye every 4 hours.

Dexamethasone eye drop was discontinued. Patient continued on prednisolone 1% eye drop 1 drop left eye every 4 hours in treating the inflammation.
At day 8 post admission, patient is reportedly doing well, as per progress note. The pain of his left eye is not as severe. CT imaging incidentally discovered the presence of severe portal vein thrombosis for which he is being managed with Heparin and warfarin.
At this stage, it is difficult to quantify or qualify the clinical outcomes of such intervention other than to state that efforts were made to minimize the potential risks associated with chronic use of multiple broad spectrum antimicrobials. On the same token, one would also hope that the use of corticosteroids conservatively and cautiously as per pharmacy recommendation would aid in averting the multiple problems that may ensue due to the immunosuppressive nature of the drug and, subsequently, cut down costs.
Enjoy this case? Why not follow the blog like over 5,000 other healthcare professionals do?  Also get a free gift!
References:
Moxifloxacin: Clinical Efficacy and Safety; Medscape :

American Journal of Health-System Pharmacy

Tobramycin inj. USP, http://www.pfizer.com/files/products/uspi_tobramycin.pdf

Moore, Luke etal,

Know the systemic effects of ocular steroid therapy: Think outside the eye while   using topical corticosteroids.

December 1, 2014