My eyes were opened a little bit wider this week as I recently attended a conference on the opioid crisis.  After a few of the numbers I heard, it is apparent to me that the medical community as a whole can do better at helping to solve and prevent this problem.  Probably the most concerning evidence was that 4 out of 5 heroin users started with prescription medications.  That's a heavy statistic.
I was also struck by the opioid crisis images at the conference.  Bitter Pill – Montana Lives Affected by Drug Abuse, was an art display, depicting the fear, anger, loneliness and helplessness of opioid addiction.  With permission, I took a couple of photos that really hit me hard.
The day after I got home from this conference, here's the image that was all over the news.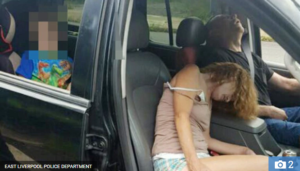 This isn't going away anytime soon.  If you are healthcare professional, do your best to educate yourself about the disease state of addiction and step in where you can to provide education and guidance to your community.
Please feel free to share this post to help spread the word about the utter destruction that addiction can do to our people and communities.