I have had some amazing people help me with various projects, and I'm incredibly proud of this product. The design and layout of the "Flippin Pharmacology Flash Cards" is beautiful and functional. I owe a debt of gratitude to Alyssa Butterfield (soon to be PharmD) for her help in making my education look more beautiful!
These flashcards would make a great resource for any nursing, medical, or pharmacy student or anyone taking pharmacology courses in college. In addition, they would definitely be helpful for anyone with an upcoming board exam (i.e. NCLEX, USMLE, NAPLEX etc.).
As you can tell by the cost of other flashcards on Amazon, I've done my best to keep the cost low and it likely will go up in the future!
The only thing I would ask is if you find them useful, please do me a huge favor a leave a kind review on amazon!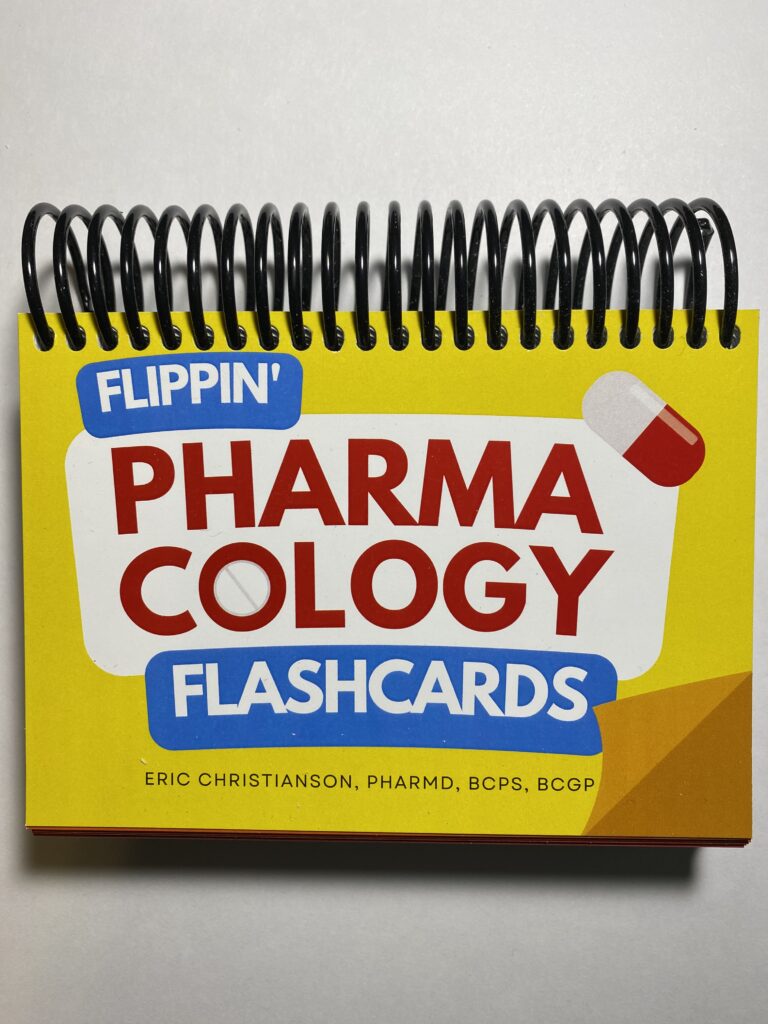 Features – Flippin' Pharmacology Flash Cards
Nearly 600 medications are listed on 290 pages
Separated and color-coded by general topics as this is how pharmacology is taught in college – see image below
Drugs are categorized by class as applicable
The most highly testable information that I've seen in my pharmacy career is on these cards
Spiral bound so you'll never lose a card
High quality, durable paper (we did not take the cheap route on these, trust me!) that will last a long time
Eye-popping color
Easily fits in the front pouch of a backpack (6x6x2 inches is the approximate size)
A convenient resource for traveling on bus/plane
Amazing price for the quantity and quality of content
Great gift for any nursing, pharmacy, or medical student!
Let me know if you have any questions or comments on the booklet of flashcards at [email protected]
Eric Christianson, PharmD, BCGP, BCPS