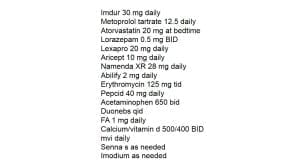 Tonight's Medication List Review – First thing I want you to remember is whenever you see an order for Erythromycin, remember that it has a ton of drug interactions.  So whenever we start, increase or decrease this medication, it can have ramifications on the concentrations of other medications.
I will highlight a couple possible interactions; Erythromycin can increase Abilify (aripiprazole) concentrations.  Here's a case where dose really makes a difference.  While it is a legitimate concern, my concern would be much higher if this patient was on 30 mg of Abilify daily versus the current 2 mg order.  Atorvastatin concentrations can also be increased due to the erythromycin and is something we need to monitor and be thinking about.
The other question I'd have with the erythromycin is why are we using it?  I've seen this type of dosing before and would likely suspect chronic use not for an infection, but for GI motility.  I'm not a big fan of using this due to all the interactions erythromycin can cause, but might have to be an option depending upon the case.
Check out the 30 medication mistakes that all healthcare professionals should be aware of! – A 6 page PDF free to subscribers – Click here for access!