Difficulty Breathing: What could be contributing?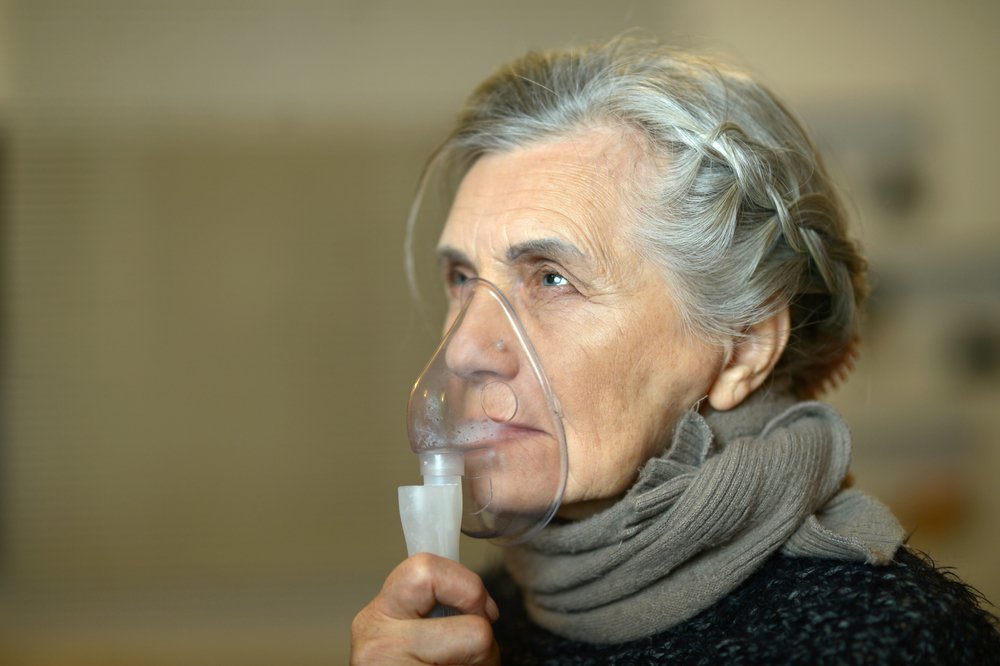 75 year old African American female with history of chronic heart failure (CHF), hypertension, atrial fibrillation with an implantable cardioverter-defibrillator (ICD), diabetes mellitus, asthma with chronic obstructive pulmonary disease (COPD), came to the ED with a chief complaint of "I woke up this morning and could not breathe". The patient also had a cough with thick yellow and green phlegm, wheezing, and chest congestion. The patient reported worsening of the symptoms over the past couple of months with several admissions during this time for similar symptoms. The patient was treated with one nitroglycerin 0.4 mg SL tablet, furosemide 80mg IV, placed on CPAP, and given 2 doses of albuterol-ipratropium 3 ml nebulizer prior to arrival by EMS resulting in some improvement in symptoms. While in the hospital, the patient was started on metoprolol 50 mg tablet oral BID, enalapril 5mg tablet oral daily, amiodarone 400 mg BID, albuterol-ipratropium 3 ml nebulize every 6 hours, and fluticasone-salmeterol 250 mcg-50 mcg 1 puff BID. Patient's vitals on arrival were: BP= 100/63, HR= 70 and RR= 18. Her chest X-ray showed diffuse interstitial, slightly nodular, opacities bilaterally and pulmonary venous congestion consistent with that observed during prior admissions.
Patient's shortness of breath was diagnosed as CHF exacerbation. However, it is important to examine the patient profile closely to find possible underlying/contributing cause(s) of the symptoms. The patient was started on amiodarone 400 mg BID as a loading dose a year and a half ago for paroxysmal atrial fibrillation with rapid ventricular response (RVR). Prior to beginning of amiodarone, cardioversion was attempted. The plan was to wean the dose of amiodarone to 200mg TID for 1 week and then 200mg BID. However, patient's dose was not re-evaluated and was continued at 400 mg BID. In this case, one of the possible contributing factors to the patient's worsening pulmonary function could be prolonged use of amiodarone at a high dose.
One of the most serious, potentially life threatening adverse reaction of amiodarone is pulmonary toxicity; it is one of the leading causes for discontinuation of the drug. Some of the common pulmonary manifestations of amiodarone-induced pulmonary toxicity (AIPT) are interstitial pneumonitis, organizing pneumonia, eosinophilic pneumonia, acute respiratory distress syndrome (ARDS), pulmonary fibrosis, diffuse alveolar hemorrhage, pleural effusion. Risk factors for AIPT are uncertain but, may include a high cumulative dose, daily dose greater than 400 mg/day, duration of therapy exceeding two months, increased patient age (> 60 years), pre-existing lung disease, thoracic or non-thoracic surgery, and pulmonary angiography. The prevalence of AIPT is estimated to be about 5-7%. Two major hypotheses of AIPT include a direct toxic injury to lung cells and an indirect immunologic reaction. Due to the frequency and potential severity of AIPT, early detection is desirable. Patients who may benefit from amiodarone should be carefully selected and the lowest effective dosage of amiodarone should be administered. Treatment of AIPT consists primarily of stopping amiodarone and, in most patients, initiating systemic glucocorticoids at the dose equivalent to oral prednisone 40 to 60 mg/day. Patients with mild symptoms (dyspnea on mild to moderate exertion) and normal oxygenation can be observed off amiodarone without glucocorticoids.  References
Submitted By:
Chandni Dudhia, PharmD-PGY 1 Pharmacy Practice Resident in collaboration with Donna M. Lisi, PharmD, BCPS, BCPP, Barnabas Health Care System, South Plainfield, NJ