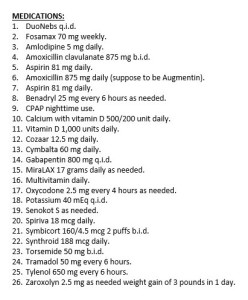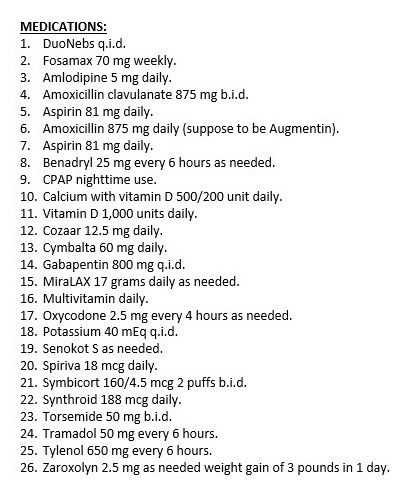 Tackling a medication list can be a tricky task, especially when they look like the one above.  Remember that I'm trying to teach the clinical pharmacy thought process, not the answer in these medication lists.  One variable in your patients can make a huge difference and send you in a totally different direction when it comes to eliminating, increasing, reducing, or adding medications, remember that.
I'm not going to cover everything, but I'm going to highlight a couple of things that I would be looking at closely.  Please feel free to add anything that looks unusual to you as well at the bottom of the page as we are all in this together!  The first thing I notice was the duplication amoxicillin/Augmentin – likely an error in transcribing, but something that needs to be looked at for sure.
Going down further on the list I notice pretty substantial doses that we should keep a watchful eye on depending upon age/kidney function and other factors.  Gabapentin is a fairly big dose at 800 mg four times daily and that especially concerns me as this patient is on 2 diuretics (remember that gabapentin and amlodipine can contribute to edema).  I would likely guess the gabapentin is being used for neuropathy type pain (on Cymbalta as well), but I can only speculate.  (gabapentin case)
The other big dose that you need to have a healthy respect for is potassium 40 meq four times daily.  This is a very big dose of potassium – it may likely be very necessary given the significant diuretic use, but something that should be monitored closely at a minimum.  Zaroxolyn as needed makes me a little nervous as well, not that it shouldn't be done, but you could anticipate that if the patient takes this frequently or not at all, electrolytes (especially potassium) could certainly fluctuate.  Take a look at this case for more on diuretics.  Depending upon diagnosis and other considerations, they may be a candidate to consider spironolactone to help raise potassium and potentially reduce the need for the high dose potassium supplementation.  Increasing Cozaar (losartan) might also help with this, but again we need to check out lots of different factors to make that judgment.
New to the blog – get a free copy of my 30 medication mistakes that every healthcare professional should know!
Eric Christianson, PharmD, CGP, BCPS