There's nothing better than a case study:  This is a very simple case, and I just wanted to highlight a few things that come to my attention as I'm reviewing this list.  We will see how this goes, and please let me know if you like this format or not as I can certainly cover some more.  Obviously we can't tell diagnosis/subjective/objective info from a simple medication list, but it can help get you in the mindset of identifying clinical medication problems.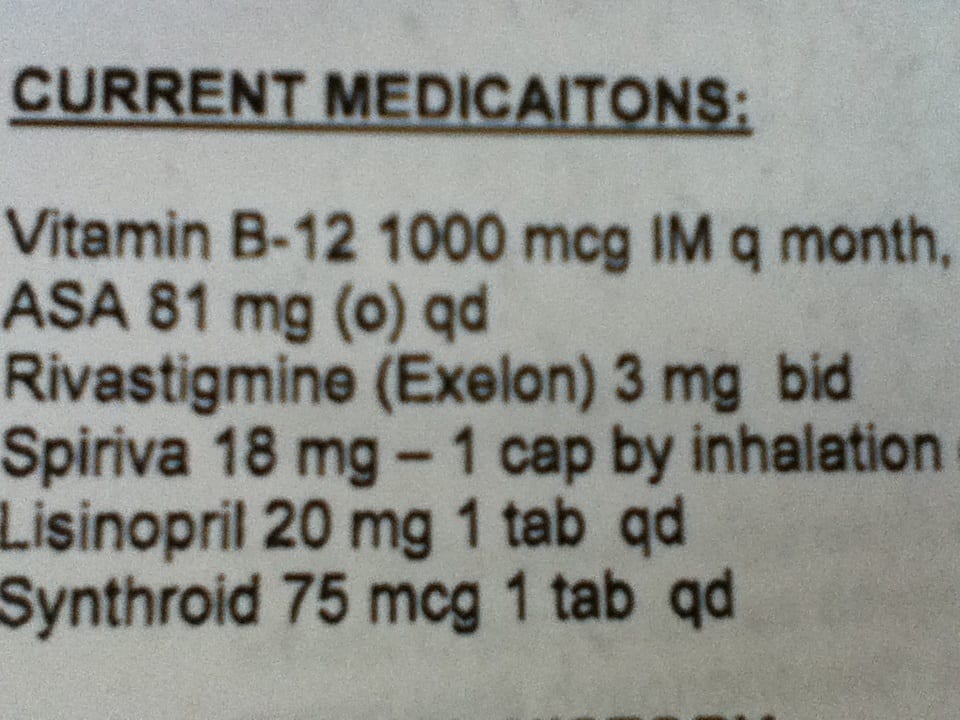 At first glance, lab monitoring is obviously going to be important with the Synthroid, Lisinopril, B12, and maybe Aspirin (esp. if anemia history or symptoms of anemia).  None of the doses seem real crazy, all pretty standard.  Spiriva remember is an inhaled anticholinergic, but it isn't absorbed systemically at a very high rate, so I  clinically wouldn't worry very much about it potentially blocking the effects of the Exelon (for suspected dementia).  Exelon is at a moderate dose.  I'd be interested to know if this patient tried a higher dose and didn't tolerate it or if their provider did not want to try to maximize the dose for another reason?   With the Spiriva(usually used for COPD), it'd be nice to know their respiratory history to see if they ever have acute symptoms that would require them to have a rescue inhaler. With this being a quick review of a medication list, keep in mind this doesn't address whether the patient is actually taking these as listed 🙂 – Hope you all found this helpful/interesting – Feedback welcome!
Creeping close to 1,000 Facebook likes, and 3,000 followers on Twitter, you need to check out the content that healthcare professionals are loving!  Click Here to subscribe for more free content!