With the help of 4 pharmacists (3 BCPS certified), I'm excited to share some BCPS Tips on Bioterrorism from my latest 300+ page creation: BCPS Bullets – I also wanted to say thanks to all who purchased it!  You guys all made it high #1 in the pharmacy category (surpassing the Nursing Drug Handbook for a period of time)! Sorry, the screenshot got a little blurry.  If you are liking BCPS Bullets and have a spare minute or two, I would love a kind review on Amazon! For those still considering, I'll give you another taste. Below are some hard hitting facts from the Bioterrorism section!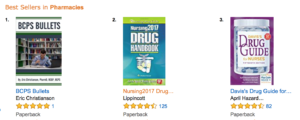 Bioterrorism
Signs/Symptoms/Diagnosis/Complications
Utilizing biological agents such as viruses or bacteria to deliberately cause harm
Signs and symptoms vary considerably depending on agent
Laboratory diagnosis of specimen ideal for confirmation of agent
State and regional public health officials should be notified of potential bioterrorism attacks and can help manage treatment
Common Risk Factors
Categories of bioterrorism agents

Category A

Highest risk agents due to easy transmission, high death rates, cause of public panic, and special public health preparedness requirements
Examples include smallpox, anthrax, botulism, tularemia, Ebola

Category B

Moderate risk agents with lower transmission rates causing moderate illness and low death rates
Examples include ricin, Q fever, brucellosis, Staphylococcus enterotoxin B, Salmonella, Shigella, E. coli O157:H7

Category C

Emerging pathogens that have potential to be mass produced in future
Examples include multi-drug resistant TB, yellow fever, hantavirus
Medications to Know
Antibiotics

Ciprofloxacin

Used for anthrax, tularemia, and plague
SEs: tendon rupture, peripheral neuropathy, QT prolongation, glucose abnormalities

Doxycycline

Used for anthrax, tularemia, and plague
Used in combination with rifampin for brucellosis
SEs: Nausea/vomiting (take with food), sun sensitivity

Antitoxins

Have been developed against anthrax, botulism, and ricin
To read more information about the BCPS Bullets study guide, click here!
Eric Christianson, PharmD, BCPS, BCGP