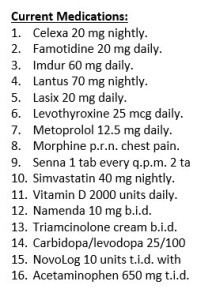 If you haven't subscribed yet for future updates and access to more free clinical medication content, please Click Here to do so!
I'm going to cover a couple points tonight, and let you guys help with anything else you'd be concerned about by looking at the med list!
The morphine dose certainly needs to be clarified, and along with that we might as well ask how frequently it is used for chest pain.  Along with the potential for chest pain and cardiac type medications, it is pretty suspicious that this patient is not on an antiplatelet of any kind?  Maybe bleeding risk history? Frequent falls potentially Parkinson's with Sinemet Rx?
The other point I will mention is that this patient is on a fairly substantial dose of insulin – so we certainly need to pay close attention to blood sugars  and any abnormal symptoms as this patient likely has dementia being on the Namenda.  Hypoglycemia identification can often be a challenge in dementia.
Definitely a couple other things to monitor and point out here…thanks for your help in advance!