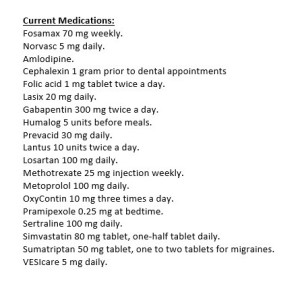 1.  The interaction between amlodipine and simvastatin was the first thing I notice – Currently, FDA recommends a max dose of simvastatin 20 mg daily if on Norvasc – Also noted that amlodipine is listed twice which is the generic name of Norvasc.
2.  I can't help but wonder why they are using the methotrexate injection in this case, and along with that what the indication is that it is being used for?  Also remember that Folic Acid supplementation is recommended with methotrexate which this patient is on.  I would be interested to know why they are on a daily dose of 2 mg (folic acid).
A few other points that I would look into – PRN analgesic for breakthrough pain, with Fosamax use would look into why we aren't supplementing with vitamin D/calcium, 5 injections would maybe nice to get down to 4 if possible (6 with methotrexate weekly) – relatively low dose Lantus could maybe go to one injection depending upon history, frequency of triptan for migraine, and both gabapentin and amlodipine can contribute to edema issues and would look into Lasix timing/relationship.  Plenty of labs to be monitoring as well!
Please feel free to add anything else!
For more clinical pearls on the pharmacology of statins, be sure to check out the podcast!