56 year old male has a history of CHF, diabetes, osteoarthritis, and glaucoma.  His current medication list includes:
Aspirin 81 mg daily
Losartan 50 mg daily
Metoprolol 12.5 mg twice daily
Zaroxolyn 2.5 mg three times per week
Lasix 80 mg daily
Tylenol 500-1000 mg TID PRN
Glipizide XL 5 mg daily
Xalatan at night
This gentleman had an appointment with his eye Dr. to have a further assessment of his glaucoma. Upon return from the eye Dr., he was prescribed oral acetazolamide for glaucoma at 250 mg po twice daily. Prior potassium level a few months before the acetazolamide was 3.5. It was unclear whether the primary physician was unaware of the eye Dr. appointment or had been notified, but did not recall or anticipate any relevant medication changes. The eye Dr. did not order any follow up lab work or suggest any when the acetazolamide was ordered for glaucoma.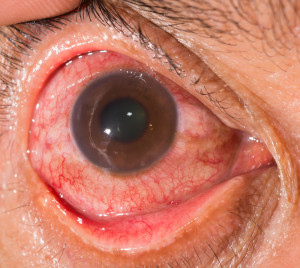 Acetazolamide is a carbonic anhydrase inhibitor that has a diuretic effect. This medication being utilized by itself would likely have a much less risk of causing electrolyte abnormalities, but when used in combination with other potent diuretics like Zaroxolyn and Lasix, the outcome was a little scary.  Another factor here was that the potassium was already at the lower end of normal (3.5). When the kidney function and electrolytes were finally rechecked a month or two later after initiation of acetazolamide, the potassium was dangerously low at 2.7.
This is a classic case of where communication breakdown and inattentiveness on many accounts led to the negative outcome.
New to the blog?  Be sure to check out the 30 medication mistakes that all healthcare professionals should know – 100% free to subscribers, simply an email address will get you access.