The ADA has released its 2023 guidelines. There are a significant number of impacts on medication therapy, and in this post I will outline my most important takeaways. I was also recently catching up with my friend and fellow pharmacist, Derek Borkowski who is the founder of pyrls.com and they again would like to share their excellent PDF on the updated treatment algorithm which you can see a preview of at the end of this post.
Weight Loss and Diabetes
If you have paid attention to pharmacy news lately, you'll know that there have been shortages of at least a couple of diabetes/weight loss medications. Semaglutide and tirzepatide shortages have been widely reported. They have been shown to have beneficial effects on weight loss and diabetes. The 2023 ADA guidelines specifically mention these agents in their treatment algorithm when weight loss is desired. Notably, the ADA recognizes that semaglutide and tirzepatide have the highest efficacy for weight loss.
SGLT2 Inhibitors
Evidence has been increasing to support the use of SGLT2 inhibitors in patients with heart failure. The ADA guidelines have historically mentioned the benefits of these agents in the use of REDUCED ejection fraction heart failure (HFrEF). In addition to this benefit, the guidelines mention the benefit of these agents in PRESERVED ejection fraction heart failure.
Finerenone
The 2023 ADA guidelines have also given credence to the use of finerenone. Here's the formal language from the guidelines, "For people with type 2 diabetes and chronic kidney disease with albuminuria treated with maximum tolerated doses of ACE inhibitor or angiotensin receptor blocker, the addition of finerenone is recommended to improve cardiovascular outcomes and reduce the risk of chronic kidney disease progression". I have covered finerenone in the past and the supporting data. You can read about the FIDELIO-DKD trial and more here.
Free Downloadable PDF 2023 ADA Diabetes Guidelines
Pyrls.com is offering a free PDF giveaway on their visually pleasing take on the 2023 Diabetes Guidelines. Don't hesitate to take advantage of this. Simply signing up for a free account (do that here) will get you access to this SWEET PDF. You can see a screenshot below.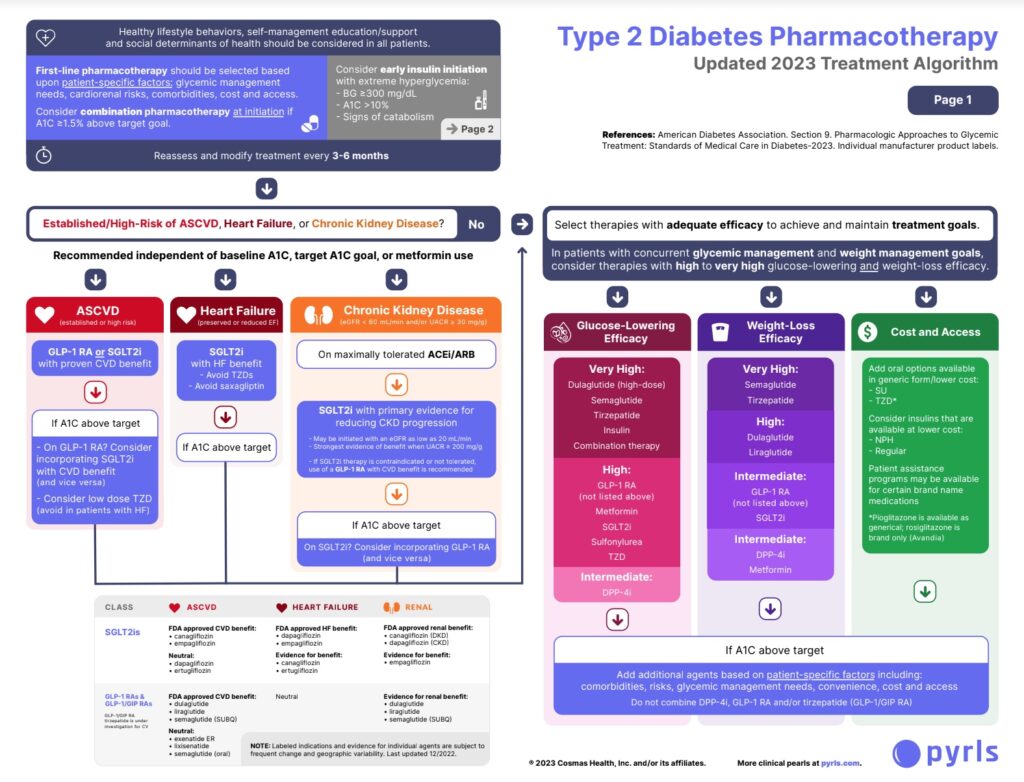 What did you find most intriguing about the 2023 guidelines? Leave a comment below!
Eric Christianson, PharmD, BCPS, BCGP