The 30 medication mistakes is a PDF that I created based upon medication problems that I see in my everyday practice as a clinical pharmacist.  Don't worry about the cost on this one.  It's on me 🙂  Simply subscribing to the blog will get you this educational PDF for FREE!  Over 1,500 caring professionals have already taken advantage.  Click here to get it free.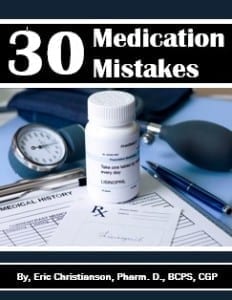 The BCPS (pharmacotherapy)exam is difficult!  Help get that extra edge to ensure you pass the first time.  This 200 question mock exam will help you focus your preparation as well as give you a sense of what to expect.  It has been the Best Seller on Meded101.com – Click here to read more or take a free 10 question quiz!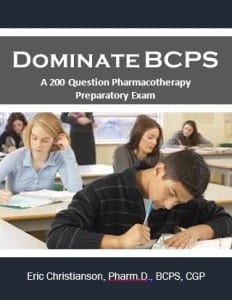 In March 2015, this ebook was named the #1 best seller on Amazon in Pharmacy and Pharmacology.  It is a must have for any healthcare professional involved in medication management. Pharmacy students and practicing pharmacists will love the real life scenarios from this book.  Check out the reviews, the cost effectiveness is statistically significant! Please click here to learn more about the ebook!