NAPLEX All Access Pass – 1 Year Subscription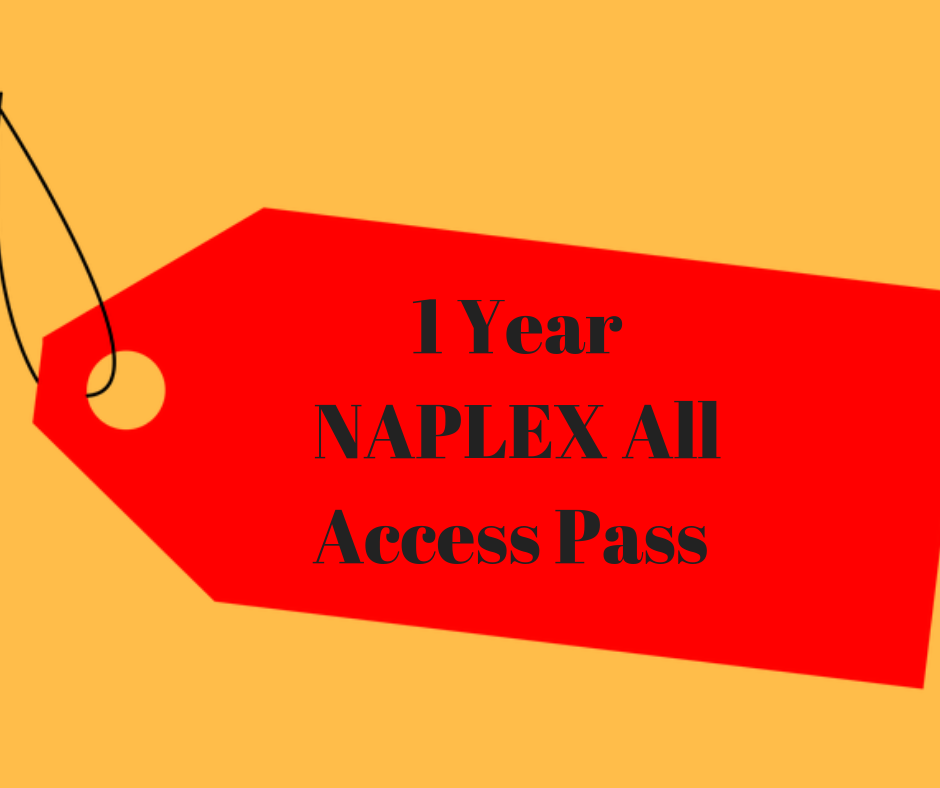 Updated for 2019 exam participants! Because many have asked, we've created the 1 year option for our popular NAPLEX All Access Pass. You will also find it at a discount versus purchasing 6 month access twice.
With a drop in the pass rate of the NAPLEX exam and a switch to a more clinical exam, we wanted to create some excellent content to reflect these changes.  We've taken our top 3 NAPLEX Resources and Bundled them at an unbelievable price.  The NAPLEX All Access Pass includes both of our popular NAPLEX Practice Exams as well as our massive NAPLEX Review Course.
As part of our NAPLEX All Access Pass, you'll get access to approximately 20 hours of video content!  You will also get the PDF slides for notes (over 1,000 slides of educational content).  In the NAPLEX all access pass, you will also get 2 trial runs at a practice NAPLEX exam.  You will have access for 1 year.
Contents of the NAPLEX All Access Pass:
NAPLEX review course
NAPLEX Practice Exam #1

250 Question practice exam
Numerous question formats
Answers with explanations provided
Instant, anytime access for 6 months

NAPLEX Practice Exam #2

250 Question practice exam (totally different questions from Practice Exam #1)
Answers with explanations provided
Instant, anytime access for 6 months

NEW!!! – Medication Comparison Tables for easier studying; current tables include:

HIV/AIDS
Antibiotic Coverage
Antidepressant Comparison (all agents)
Antihypertensive
Antipsychotic Pearls
Beta-Blockers
Diabetes Agents
ICU Sedation Agents
NOAC Comparison
SSRI's
Statins
By purchasing the combination, you'll get a huge break off the price versus buying them individually!  We've had some really kind feedback on a lot of our NAPLEX content and I think you'll find it highly valuable.  Here's what a few customers have had to say:
"I feel this is a great resource for students to use in preparation for the NAPLEX exam. It provides a wide variety of content and questions to aid in learning. As a new practitioner who recently took the NAPLEX exam, I find these questions to be a fair representation of those asked on the actual exam." – Mandy G.
"I somehow feel that it's like the author uses a filter or semi-permeable membrane to concentrate the components in a solution, so you don't have to drink a ton of liquid to obtain the nutrition in it." – Cee
"Great source and great price!" – Chelsea
If you have any questions on this or any other products, feel free to shoot us a message!
NAPLEX is a registered trademark of NABP. Meded101 and this study guide are not affiliated or endorsed by NABP or the NAPLEX Exam.