FREE Audible Book Opportunity! The Thrill of the Case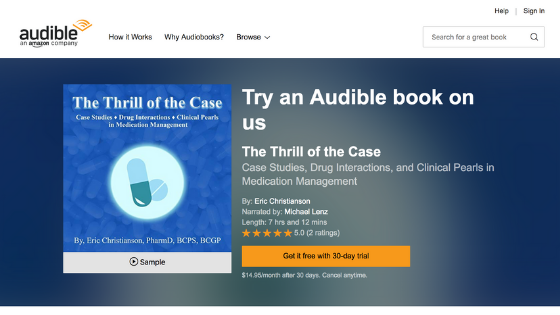 I'm in the giving spirit and we've got a brand new release!! Yes, a FREE Audible Book! "The Thrill of the Case" is now live! I could not figure out a good way of fairly giving out these codes without me doing a million emails. The quickest on the draw will get a 100% FREE Audible book. It would be courteous if you would kindly document if a code worked for you in the comment sections so people don't waste time trying ones that have been used.
If you are too late, which many of you will be unfortunately, there is a second way to get this Audible book for free. (see at the end of the post)
1st Way to Get "The Thrill of the Case"
The Thrill of The Case – FREE Audible codes: These will go very quickly!
93NDKKH78DJX2
2.    LCA22NP9CAZE5
3.    PZNU9FKUJD38Q
4.    W5J974WBTW8YH
5.    RDQWWQ3TALLS3
6.    W3XK2KJF8KN5S
7.    QANWGQYK5GY75
8.    TUXW3G48UMC7X
9.    HQJXQP35DDQZD
10.    NSPJNMPR342DR
11.    AF9HET7MFC9M9
12.    MD4LKK5M989JY
13.    4XL5JC6T9AQY8
14.    LWGSU4LWBECXC
15.    XQXE7FZMR7H6U
16.    E8489YWZHCA6X
17.    RXC472UC4ZQC9
18.    LTXYJKD4LHLG7
19.    FA4FMEF6HJ9SS
20.    SWX4E799D3K2R
21.    T6LESG33A2Z4A
22.    TLJ3CJA83ENE3
23.    ZL5NUTE7BFGSE
24.    8SZRZ3B9HR939
Only One Favor in Return – Please Leave a Kind Review if You Like the book!
Here's the instructions for using the code.
Go to my book's page on Audible.com
Add the audiobook to your cart.
If you are prompted to sign in, please create a new Audible.com account or log in.
Go to https://www.audible.com/at/redeem. Enter the promo code and click "Redeem" to receive a credit for the title in your cart.
Head back to your cart. Make sure the button that says "1 Credit" is selected and that your subtotal reads $0.00 dollars.
You may proceed through the checkout by clicking "Proceed to Checkout" and "Complete purchase" on the subsequent page.
2nd way to get "The Thrill of the Case" for FREE
If you have never purchased anything from Audible, they give you your first book for free!  There is no risk in doing this and you can cancel without ever paying a dime.  I would highly recommend this if you've never listened to an audiobook before.
Simply follow this link and click the "orange/yellow" box – Free with 30-day Trial.  Again, you do not have to pay anything and can cancel if you are not going to continue with an Audible membership.  This is a no-brainer if you love case studies and clinical pharmacy content! The book is 7 hours of content!  Good luck getting anything like this without it costing you an arm and a leg, much less be FREE! Please leave a kind review if you like the content! Thank you!!
Eric Christianson, PharmD, BCPS, BCGP