Pharmacotherapy Book – More Free Stuff!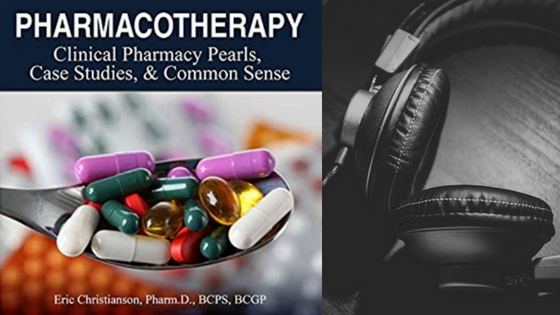 With the assistance of Tony Guerra of the Pharmacy Leaders Podcast and the voice of Michael Lenz, we've taken the Amazon Best Seller – Pharmacotherapy: Improving Medical Education Through Clinical Pharmacy Pearls, Case Studies, and Common Sense and made it into an Audiobook.  It's something I've always wanted to do, but just couldn't find the time to make it happen.  It's done now and I'm very pleased and am so grateful for Tony and Michael's help!  I think you will find the ratings very positive as it is professionally done!  Now for the FREE stuff!! There are two ways to get the Pharmacotherapy AudioBook for FREE.
The first FREE way

to get the Audible book. Audible has given me 25 FREE discount codes for use but there is a catch.   It is for their UK store.  I am under the impression that these codes WILL work on a desktop computer in the US.  I've got an email list of over 5,000 so there really isn't a great way to distribute them fairly other than first come, first served. Here's is the process for using the codes. The codes are listed below.

1. Go to my book's page on Audible.co.uk: www.audible.co.uk/pd/Pharmacotherapy-Audiobook/B07G7GSCRY
2. Add the audiobook to your basket.
3. If you are prompted to sign in, please create a new Audible.co.uk account or log in. Otherwise, proceed by clicking 'Do you have a promotional code?' beneath the cover artwork of the audiobook.
4. Enter the promo code, and click 'Apply Code.'
5. A credit for the audiobook will be added to your account. Click the box next to '1 Credit' and click the 'Update' button to apply the credit to the purchase.
6. After you select '1 Credit' and click 'Update' to modify your shopping basket, the price for the audiobook will change to £0.00. You may proceed through the checkout by clicking 'Next Step' and 'Complete Purchase' on the subsequent page.
Discount codes: – please leave a comment below if you successfully used one or one doesn't work because it has been used.  They will go quickly, I'm sure of it.
1.    DWB54HH8MG9G7
2.    2JX3AME8W2EFD
3.    GFLCF4J2KGN56
4.    225ZEGAKQJBRU
5.    PCWDSET5QSBHT
6.    HJGBTU532DHWS
7.    XGDY7ZYFFHUP4
8.    Q3L6GR8W4UTZ4
9.    9S25YZADRFQ5K
10.    QL6CDDWWJAHRK
11.    F6289NKJ2FSHG
12.    4DHCMDKZ28XML
13.    4CEJLX47XUYTH
14.    4B5E5DSYT324J
15.    XQA53UBB26EJQ
16.    J7MTE7J24YZ7Z
17.    NKDDTBFZGGF9L
18.    MYMNXXUG4M2ZR
19.    G4TCWSNRWWSQN
20.    UHAM7EAYN7FGG
21.    FHG45DXGXC9QB
22.    RR7UTSWL629FM
23.    8JZYDWASYFCMF
24.    G24SNDYEUWUJC
25.    WEBJ94S44GTR7
The second FREE method

. If you were not quick enough to snag the discount code for Pharmacotherapy, are not in the UK or do not want to listen on your computer, there is another way to get this book for free IF you are not yet an Audible member.  When you sign up for an Audible account, they give you the first title free.  There is no obligation to continue your membership as you can cancel at anytime and keep the title for free. Here's the link if you'd like to give Audible a try for FREE!
As always, if you like any of our content, we are so appreciative of kind ratings and reviews on Amazon and Audible! If you find any errors, feel free to reach out to me here. This will also be the last week that The Thrill of the Case will be dirt cheap! 
You can find a list of all of our resources here.
I sincerely hope you find these resources helpful in your professional development or find them helpful as a gift to the next generation of healthcare professionals!
Eric Christianson, PharmD, BCPS, BCGP