New Book Giveaway! – As Cheap As You Can Get It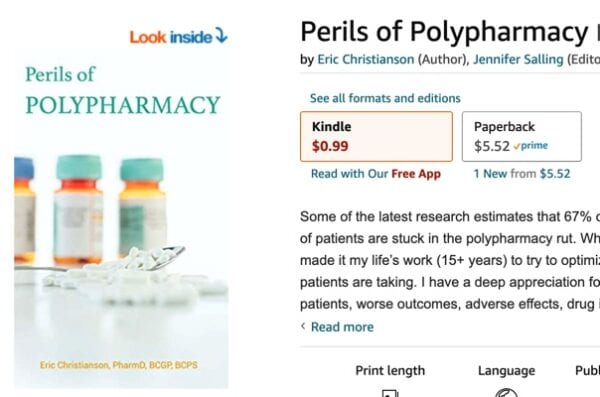 Days like today are always so much fun for me! I have completed my latest Amazon eBook and Paperback. The name of the book is Perils of Polypharmacy. As a gift to all of you who follow the blog/podcast, I'm giving you an opportunity to get the book nearly for free!
I designed this book to help healthcare professionals identify the prescribing cascade and the collateral damage that can result on account of polypharmacy. Throughout the book, I provide countless case examples of common adverse effects, the prescribing cascade, and complications resulting from polypharmacy. I have included examples from over 200 of the most commonly prescribed medications. The book is over 200+ pages in length, so I can assure you that you will get your money's worth!
Ultimately, this book will help you recognize polypharmacy, the prescribing cascade, and more importantly, give you actionable situations, case scenarios, and ideas to help reduce medications in your patients.
I am pricing the book as cheap as Amazon will let me! The Kindle version (eBook) will cost you less than a dollar and a paperback copy will cost you around 5$ (cost of printing). This is an incredible, one-time offer that will end on June 13th, 2021.
The only thing I would ask in return is that if you find value in the book, please leave a rating and review on Amazon!
Here's the link to go get this book nearly for free before the initial price goes up!
Eric Christianson, PharmD, BCPS, BCGP