2019 BCPS Exam Study Material from Meded101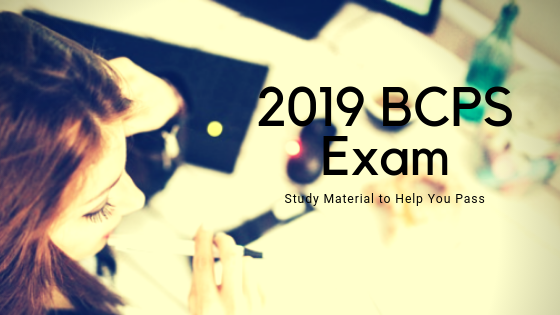 So, you've decided that 2019 is your year to seek BCPS certification.  Or maybe you are still on the fence?  Well, maybe this will help you take a leap and make a decision. I am releasing my 2019 BCPS Exam study material and you can find more info below!
There have been no major changes in the BCPS content outline for the 2019 BCPS exam when compared to the 2018 outline.  The exam breakdown continues to include the following domains:
Patient-Specific Pharmacotherapy (55 percent of examination)
Drug Information and Evidence-Based Medicine (25 percent of examination)
System-Based Standards and Population-Based Pharmacotherapy (20 percent of examination) Find the full BCPS content outline here.
So what did we update this year to help you prepare to pass, and what does the BCPS All Access Pass include?
Included in the 2019 BCPS Exam – All Access Pass:
BCPS Review Course – 20+ Hours of recorded videos on 100+ topics; also includes 1,000 downloadable slides ($150 value)
2 BCPS Practice Exams ($90 value)

As of May 2019, 1,000 questions added to our online question bank (totaling 1,300+ with our two practice exams)
Updates to our 2019 BCPS Exam Study Material
As of January 2019, we've added the highly valuable BCPS Regulatory Study Guide (30+ page PDF) to the All Access Pass
Video updates for the following disease states:
Diabetes

New addition of Diabetic Ketoacidosis

Gout
Osteoporosis
Rheumatoid Arthritis
Vaccines
Colon Cancer
GI Infections
Gout
CHF

Slide updates
Additional Study Comparison Sheets, with important clinical pearls – Downloadable PDF's

Antidepressants
Antihypertensives
Atypical Antipsychotics
Beta-Blockers
Diabetes Medications
HIV/AIDS Medications
ICU Sedation Agents
SSRI Comparison
Statin Comparison

Editing/proofing of our 2 practice exams (total of 350 questions) and our unique BCPS statistics study guide.

As of May 2019, 1,000 questions added to our online question bank (totaling 1,300+ with our two practice exams)
Feedback
We've had some really nice feedback from previous exam participants and I know the All Access Package will help you prepare to pass the 2019 BCPS exam;
"I was surprised by the ease it took me to understand the key concepts while reviewing your study guide. It was very reader-friendly and well written. For someone like me who has not had enough exposure to statistics, let alone biostatistics, it was of tremendous value." – Mike M.

"It was very helpful for me and worth the money." – Toni

"I purchased both courses from ASHP and ACCP. Your questions give the material from ACCP a run for it's money, in as much as you present valid, valuable clinical information." – Mary B
BCPS Exam Study Material Details
We have two options that are going to be the best value for you.
Option 1 – 1 year All Access BCPS Pass! – This is the best value for your money and gives you a little more security in the event you don't pass your BCPS exam the first time. Purchasing two 6 month All Access periods will cost you an additional $100.
Option 2 – 6 month All Access BCPS Pass! – This is $50 less than buying the full year, but access does expire in 6 months.
Best of luck on your preparation for 2019!
What About BCGP and BCACP Updates?
You can find the updates for 2019 for BCGP and BCACP below: